Tower of the King's Daughter
Tower of the King's Daughter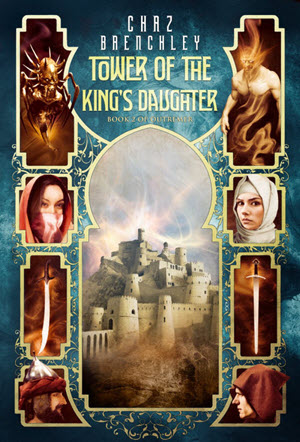 Publication is due on August 11th. Pre-orders are open at the links below.

Purchase options
You can buy paper editions from:
Our bookstore - (UK only) includes free ebook
Amazon US
Amazon UK
Waterstones - UK only
You can buy ebook editions from:
Amazon US
Amazon UK
Barnes & Noble (Nook) - USA only
Kobo

ISBNs
Paperback: 978-1-913892-36-4
Hardcover: 978-1-913892-37-1
EPUB: 978-1-913892-34-0
MOBI: 978-1-913892-35-7
Description
Hasan's assault on the Roq has failed, and the Ransomers will exact terrible revenge. Marron has entered the service of Sieur Anton, while Julianne still waits for her wedding. Meanwhile, there are secrets to be revealed.
What is the reason for Sieur Anton's shame? Who is the mysterious prisoner in the Roq's dungeons? Who is Rudel, really, and why does Elisande hate him so? Most importantly of all, what lies within the Roq's forbidden section, the place known as the Tower of the King's Daughter?
The answers to these questions will set Marron and Julianne on a path neither of them could ever have dreamed.
Praise for the Outremer series
"Along the way there are all the adventures a discerning fantasy reader could wish for and Brenchley's concise, muscular prose makes the story flow, free of genre clichés" — SFX
"Brenchley's grasp of his colourful narrative never falters, and his descriptive powers are exemplary." — Orbit
"Chaz Brenchley's striking new epic fantasy series [is] a revelation. The atmosphere is so well described you can almost taste it." — Starburst
"Brenchley the horror novelist and Brenchley the fantasist come together in perfect alignment…the kind of dark, painful power rarely seen in the literature of heroic fantasy." — Cemetery Dance
"If you like slow tension and intrigue and well-developed world-building, this is recommended. Brenchley's prose is crisp and descriptive and his characterizations are nicely done. The last quarter of the book finally cuts loose and the ending left me wanting to see what will happen next" — Sigma
"Brenchley has created a fascinating alternate-world version of the Crusader kingdom and has set up a bunch of interesting plot strands. The addition of Arabian Nights-style magic is a very clever touch that promises much to come." — Emerald City
"As with all Brenchley's novels, the prose is beautifully crafted and a joy to read…I can't wait to see what happens next." — Northern Review
"Compelling reading" — Locus