The Green Man's Foe
The Green Man's Foe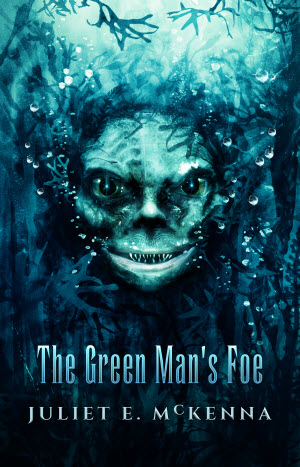 Purchase options
You can buy paper editions from:
Our bookstore - (UK only) includes free ebook
Bookshop.org UK - (UK only)
Bookshop.org US - (USA only)
(see here for terms using Bookshop.org)
Amazon US
Amazon UK
Amazon AU
Amazon DE
Waterstones - UK only
You can buy ebook editions from:
Amazon US
Amazon UK
Amazon AU
Amazon DE
Barnes & Noble (Nook) - USA only
Kobo
Weightless Books



ISBNs
Paperback: 978-1-908039-87-3
Hardcover: 978-1-908039-88-0
EPUB: 978-1-908039-85-9
MOBI: 978-1-908039-86-6
Description
When you do a good job for someone, there's a strong chance they'll offer you more work or recommend you elsewhere. So Daniel Mackmain isn't particularly surprised when his boss's architect brother asks for his help on a historic house renovation in the Cotswolds.
Except Dan's a dryad's son, and he soon realises there's a whole lot more going on. Ancient malice is stirring and it has made an alliance in the modern world. The Green Man expects Dan to put an end to this threat. Seeing the danger, Dan's forced to agree. The problem is he's alone in a place he doesn't know, a hundred miles or more away from any allies of his own.
A modern fantasy rooted in the ancient myths and folklore of the British Isles.
The sequel to The Green Man's Heir.
Reviews
"I loved The Green Man's Heir, and while I expected to thoroughly enjoy The Green Man's Foe, I did not expect it to be even more satisfying than its forerunner. Which was foolish of me, I admit — I should know by now that McKenna is more capable of outdoing her previous tales in a series." — The Monday Review
"If you've read the first book then I'm pretty confident you're going to love this one, and if you haven't read the first one then you need to remedy that straight away." — Naomi Scott
"This is one of my outstanding reads of the year." — SJ Higbee
"The Green Man's Foe is a great addition to what is becoming a great series. I was entirely caught up in it for a couple of days. It is a must read if you have enjoyed the first one, and a great reason to start on this series if you have missed it." — The Middle Shelf
"The Green Man's Foe is a tasty serve of mystery and myth that has done quite enough to cement this series as one I'll be reading and cheerleading for from now on." – Imyril at There's Always Room for One More.
What I loved reading this tale is how genuinely real McKenna makes the story feel. — Matt at Runalong The Shelves