Unjust Cause
Unjust Cause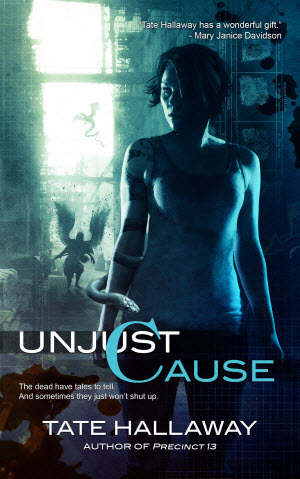 Purchase options
You can buy paper editions from:
Our bookstore - (UK only) includes free ebook
Bookshop.org UK - (UK only)
Bookshop.org US - (USA only)
(see here for terms using Bookshop.org)
Amazon US
Amazon UK
Amazon AU
Amazon DE
Waterstones - UK only
You can buy ebook editions from:
Amazon US
Amazon UK
Amazon AU
Amazon DE
Barnes & Noble (Nook) - USA only
Kobo

ISBNs
Paperback: 978-1-908039-95-8
Hardcover: 978-1-908039-96-5
EPUB: 978-1-908039-93-4
MOBI: 978-1-908039-94-1
Description
Alex Connor thought that being the South Dakota Hughes County Coroner was going to be a boring, cushy job. She didn't count on the fact that her first case would leave her with a magical, living tattoo and awaken her latent magical powers. Now she's a full-fledged member of Precinct 13, a paranormal police unit, and is trying to make a life with her dragon familiar, Valentine. Just when things seem to be settling down, bodies start falling out of the sky… literally.
Unjust Cause is the sequel to Precinct 13
Praise for Precinct 13
Precinct 13 is a really fun, fast-paced contemporary fantasy that also works well as a police procedural. […] Hallaway has put together a fascinating scenario, mixing the supernatural and natural worlds in a way that feels fresh, and her characterization is great, especially the voice of the viewpoint character of Alex.
I'm certainly looking forward to more books about both.
Charles De Lint, Fantasy & Science Fiction
---
Hallaway kicks off a fun new series featuring a young woman who learns that, despite what she has been told, she is not crazy. Hallaway is known for combining the weird and wacky with an element of danger — and this latest offering is no exception. A terrific starting point for a series and a set of characters that promises to be very intriguing.
Romantic Times
---
This is one new series you won't want to miss!
KT Clapsadl, A Book Obsession
---
These characters have heaps of potential
Maja, The Nocturnal Library