Kontakt: An Anthology of Croatian SF
Kontakt: An Anthology of Croatian SF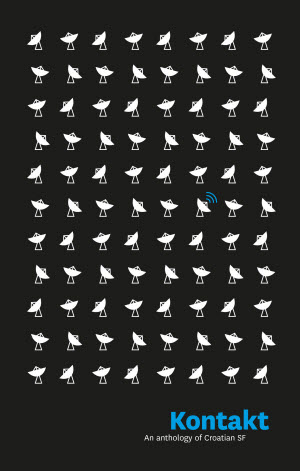 ISBNs
EPUB: 978-1-908039-32-3
MOBI: 978-1-908039-33-0
Purchase options
You can buy this book from:
Our bookstore
Amazon US
Amazon UK
Barnes & Noble (Nook) - USA only
Kobo
The original paperback edition of Kontakt was produced in conjunction with the 2012 the European Science Fiction Convention (Eurocon) in Zagreb, and given away free to members. It has never been generally available for sale. All of the stories in it are translated into English, with the intention of showcasing Croatian science fiction and fantasy fiction to the wider world.
Of the twelve stories in the book, two have already achieved recognition outside of Croatia. "The Corridor" by Darko Macan won the Lapis Histriae, an international short story competition open to writers from Italy, Slovenia, Croatia, Serbia, Bosnia and Montenegro. "Every Time We Say Goodbye" by Zoran Vlahović received an honorable mention in the 2013 Science Fiction and Fantasy Translation Awards.
Contents
Introduction by Darko Macan
Bloodhound by Milena Benini
Hi-Tech Sex Lib by Dalibor Perković
Give Me the Shuttle Key! by Tatjana Jambrišak
The Corridor by Darko Macan
The Dead by Aleksandar Žiljak
River Fairy by Ivana Delač
De Cadenza by Danijel Bogdanović
Every Time We Say Goodbye by Zoran Vlahović
Avaleon and the Black Feather by Katarina Brbora
Time Enough, and Space by Goran Konvični
Fingers by Danilo Brozović
The Executor by Zoran Krušvar