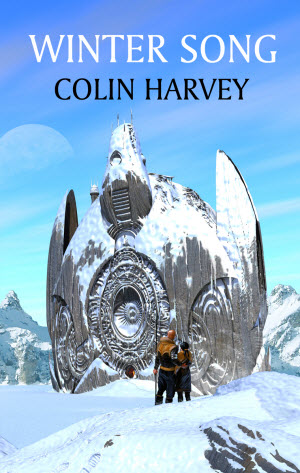 Purchase options
You can buy paper editions from:
Our bookstore - (UK only) includes free ebook
You can buy ebook editions from:
Amazon US
Amazon UK
Amazon AU
Amazon DE
Barnes & Noble (Nook) - USA only
Kobo
Weightless Books

ISBNs
Hardcover: 978-1-908039-46-0
EPUB: 978-1-908039-43-9
MOBI: 978-1-908039-44-6
Description
THE PLANET HAD FALLEN OFF THE MAP.
Rock-hard sci-fi adventure. No-one here gets out alive.
When his spaceship crashes on an unknown and forgotten planet, scientist Karl Allman discovers himself hunted by an ancient race. The descendants of earlier colonists have reverted to a savage tribal culture of sacrifice, pillage and violence. When Karl falls in love with an outcast girl, he has only one goal: escape. But escape is a distant dream on this nightmare planet.
The Wizard's Tower edition of this book includes a brand new introduction from Colin's friend, Gareth L. Powell.
Reviews
"Harvey paints a grimly convincing portrait of a subsistence existence on the inhospitable world. Harvey's novel depicts a fascinating universe of want and plenitude, to which he will hopefully return in future novels." — The Guardian
"A believably harsh tale of survival in bleak and unforgiving environments. Karl and Bera make an interesting, unusual pair, and the terrible conditions of Isheimur are conveyed matter-of-factly. This is a yarn with brawn and brains." — SFX
"Winter Song is a book that bears more than one reading. This new edition, republished in e-format by Wizard's Tower, contains a new forward by Colin's friend Gareth L Powell, which is a fitting tribute to a writer whose potential was left frustratingly unfulfilled by his early death." — Joanne Hall