The Swordsman's Oath
The Swordsman's Oath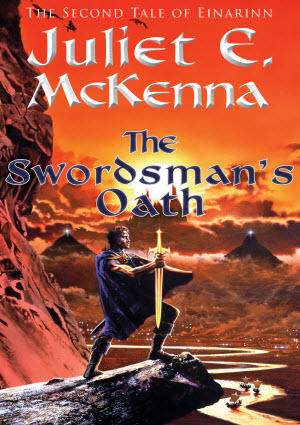 Purchase options
You can buy paper editions from:
Our bookstore - (UK only) includes free ebook
Bookshop.org UK - (UK only)
Bookshop.org US - (USA only)
(see here for terms using Bookshop.org)
Amazon US
Amazon UK
Amazon AU
Amazon DE
Waterstones - UK only
You can buy ebook editions from:
Amazon US
Amazon UK
Amazon AU
Amazon DE
Barnes & Noble (Nook) - USA only
Kobo

ISBNs
Paperback: 978-1-908039-76-7
Hardcover: 978-1-908039-75-0
EPUB: 978-1-908039-17-0
MOBI: 978-1-908039-18-7
Description
As a Tormalin sworn man, Ryshad is honour-bound to obey his prince's orders. Now he is sent to help two wizards searching for lost knowledge to use against the mysterious, murderous Elietimm. Conveniently, Ryshad can do his duty and seek personal revenge for a friend dead at the Ice Islanders' hands. Better yet, the wizard Shiv still has business with Livak; gambler, thief and, briefly, Ryshad's lover.
However, Ryshad soon learns just how perilous involvement with elemental or aetheric magic can be. Enchantments he cannot counter leave him far from home, and from any hope of allies, powerless amid the lethal hazards of the Aldabreshin Archipelago. Only strength of character and the fighting skills forged in his master's service can save him from sorcery and treachery.
An unforeseen bond with another young man ensnared in unsuspected enchantments leads towards the answers the Archmage so urgently needs. As the Elietimm threat grows, neither Tormalin swordsman will escape unscathed. Some dangers defy even the finest master-crafted blade.
The second volume of Juliet E. McKenna's acclaimed debut series, The Tales of Einarinn, is available in ebook form for the first time.
To learn more about the book, and the rest of the series, see Juliet's website.