Shadow Histories of the River Kingdom
Shadow Histories of the River Kingdom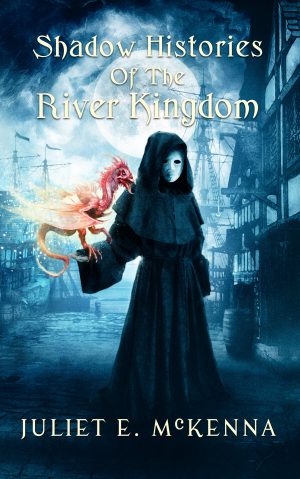 Purchase options
You can buy paper editions from:
Our bookstore - (UK only) includes free ebook
Amazon US
Amazon UK
Amazon AU
Amazon DE
Waterstones - UK only
You can buy ebook editions from:
Amazon US
Amazon UK
Amazon AU
Amazon DE
Barnes & Noble (Nook) - USA only
Kobo
Weightless Books

ISBNs
Paperback: 978-1-908039-65-1
EPUB: 978-1-908039-63-7
MOBI: 978-1-908039-64-4
Description
Imaginary friends should be a comfort when other consolations fail. But what if these longed-for companions think different? What if they're none too pleased to be summoned? What if untamed magic can spawn creatures from daydreams or nightmares? Could something eerie half-glimpsed in a shadow actually be there?
Shadow Histories of the River Kingdom introduces a brand new fantasy setting from acclaimed author Juliet E McKenna. This volume brings together stories previously available in a range of publications, not all easily found, as well as some new material.
Welcome to the River Kingdom, where shadows can be all too solid and dangerous.