Apocalypse Array
Apocalypse Array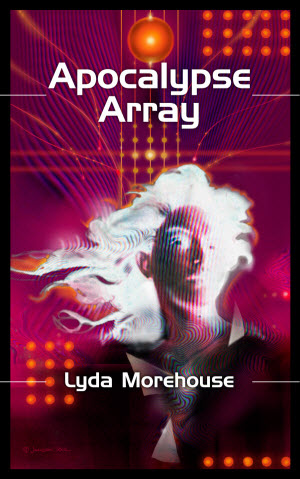 ISBNs
EPUB: 978-1-908039-37-8
MOBI: 978-1-908039-38-5
Purchase options
You can buy this book from:
Our bookstore
Amazon US
Amazon UK
Barnes & Noble (Nook) - USA only
Kobo
The Fallen Angel
At long last, Sammael Morningstar has unleashed Armagedon on an unsuspecting world. Unfortunately for the ego of the Prince of Darkness, all the glory belongs to his wife…
The Bride of Satan
Monsignor Emmaline McNaughten has achieved the impossible–brought peace between Jews and Arabs after the destruction of the Temple Mount in Jerusalem. Now, her gospel is spreading, inspiring secularism in a populace once devoted to theocratic worship, and fulfilling her role of the Antichrist…
The Blessed Daughter
Amariah isn't your typical teenager. Her mother's a legend in cybernetic and law enforcement communities. Her father is the Archangel Michael. Amariah herself just may be the next messiah. And now she's just made some powerful enemies…
Reviews
Apocalypse Array is many layered and fluid, only demanding that the reader believes the Hosts of Heaven and Hell come to Earth to be incarnated into emotionally fraught domesticity. The idea is bizarre but well worth pursuing to the end.
I can highly recommend Apocalypse Array for its original edge, lack of cliché and cleverly spun plot. – Jane Palmer
"I am personally quite surprised by the lack of publicity and praise for Morehouse's books. I don't know if her publishers have pushed her books enough, because to me they are refreshing in a genre that sometimes rehashes old ideas and the author has got a writing style that makes reading her books very addictive. I would recommend Morehouse to anyone who likes near future science fiction, give it a try and I am sure that you won't be disappointed." – Vegar Holman, The Alien Online
"I think that I would have ended up recommending Lyda Morehouse's cyber-apocalypse series even if she had made a total hash of the ending. To start with, you just shouldn't be able to get away with what she has done. It shouldn't be possible to get published with a cyberpunk detective series in which several of the characters are angels. And even if it was you should not be portraying Gabriel as a black Muslim and Uriel/Ariel as a cross-dressing Buddhist. Nor should you have your angel characters consistently refer to God as "Mother". Not in America, anyway. Someone at RoC had a serious case of suicidal bravery when they bought this series, and I'm so glad that they did." – Cheryl Morgan, Emerald City
"The End Times are at hand and the world is abuzz with speculation. Is celebrity Inquisitor Emmaline McNaughton the Antichrist? Who is the messiah? Where are we going and why are we in this hand-basket? Conspiracy theories abound as Morningstar and Monsignor Emmaline carry out their plans for Armageddon in style."
"An entertaining read, alive with Morehouse's deliciously irreverent humor and a provocative cast of characters." – A.M. Dellamonica, Internet Review of Science Fiction
"You've gotta love a futuristic fantasy that opens with a lightly humorous church wedding between Satan and the Antichrist…." – Carolyn Cushman, Locus
"Apocalypse Array is as entertaining as its predecessors, with snappy dialogue, a fast-paced plot that serves up some nice surprises, and many well-drawn characters — Amariah, the teenage Messiah, an engaging blend of stubbornness, uncertainty, and conviction; Diedre, both hardheaded and vulnerable; Mouse, sly and self-serving but as oddly likable as ever (it's really nice to see a sympathetic portrayal of a practicing Muslim); and of course the magnetic Morningstar, notable not just for his demonic powers but for his sardonic sense of humor." – Victoria Straus, SF Site
"In Morehouse's hands, turn-of-the-21st-century Earth is cleverly and carefully built." – Jen Talley Exum, Romantic Times