Lyda Morehouse
Lyda Morehouse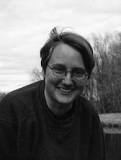 Lyda Morehouse leads a double-life. By day, she's a mild-mannered, award-winning science fiction author. At night, she dons a skin-tight cat suit and prowls the streets as Tate Hallaway, best selling romance author. Tate's books include the adult paranormal Garnet Lacey series, the YA Vampire Princess of St. Paul series, and the recent release, Precinct 13 (August 2012).
In her science fiction persona, Lyda is the award-winning author of several published novels including, Archangel Protocol, Fallen Host, Messiah Node, and Apocalypse Array (Roc). Her first novel was the 2001 Shamus Award winner for the best original paperback featuring a private investigator, the winner of the Barnes & Noble Maiden Voyage Award for best debut science fiction/fantasy novel, and a nominee for the Romantic Times Critic's Choice for best science fiction. Apocalypse Array was short-listed for the Philip K. Dick Award for distinguished mass-market paperback novels of science fiction.
When not arguing with herself, Lyda enjoys the life of a stay-at-home parent to a precocious son Mason. Recently, she's become obsessed with Anime and is drawing fan art and such, which you can read about in long, lovingly described detail on her livejournal: http://lyda222.livejournal.com/. Tate blogs at http://www.tatehallaway.blogspot.com and both personas contribute to the Wyrdsmith's group blog http://wyrdsmiths.blogspot.com. Lyda lives in Saint Paul, Minnesota.