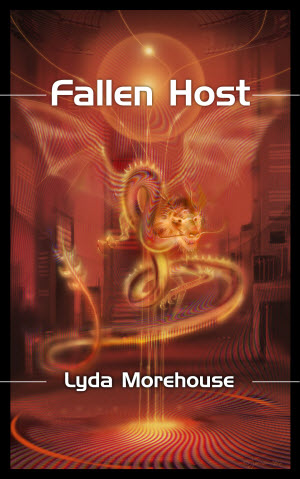 ISBNs
EPUB: 978-1-908039-19-4
MOBI: 978-1-908039-20-0
Purchase options
You can buy this book from:
Our bookstore
Amazon US
Amazon UK
Barnes & Noble (Nook) - USA only
Kobo
Mouse, the Egyptian hacker, is in jail following the events of Archangel Protocol. That leaves his AI, Page, struggling to survive. There is only one other sentient AI on the LINK, and she works for the Yakuza. The Pope is interested in discovering whether AIs have souls, and has sent his crack tech crime inquisitor after Page. Meanwhile Morningstar is busy looking for the Antichrist, and sentient beings without souls seem like a good bet. All of these stories come together in the person of a cello player from a massively popular Japanese thrash polka band. Page's only hope might be that his creator can escape jail and rescue him, but Mouse hasn't yet forgiven the AI for shopping him to the authorities. This fast-paced sequel to Archangel Protocol ramps up the stakes. It looks like the end of the world really is nigh.
Thanks again to Bruce Jensen for re-working the original cover for the ebook release.
Reviews
"Set in a near-future of political chaos and technological tyranny, this tale of self-discovery and redemption by the author of Archangel Protocol intermingles metaphysical speculation, hard science, and sf intrigue with complex characters and a fast-paced plot." – Library Journal
"a great romp" – Carolyn Cushman, Locus
"Top-notch innovative storytelling with intriguing characters and fast-paced action are the hallmarks of Ms. Morehouse's writing" – Kelly Rae Cooper, Romantic Times Book Club (4.5 stars)
"If you liked Archangel Protocol, then you'll love Fallen Host. It's a brilliant cyberpunk novel with strong lines of romance, science fiction, fantasy, and mystic fiction woven through it. Most highly recommended." – Elizabeth Barrette
"Fallen Host is bullet-train fast and at least as dangerous. "Soldiers" from all sides who get in the way end up a crimson smear on the page. Not even those who manage to grab on escape unscathed. It's brutal, passionate, poignant, and thought-provoking — just the startling artistry we should expect from Morehouse." – Lisa Du Mond, SF Site
"Once again the author manages to create a blend of science fiction, advanced technology, theological ideas, and romance which is well worth a read" – Vegar Holmen, The Alien Online